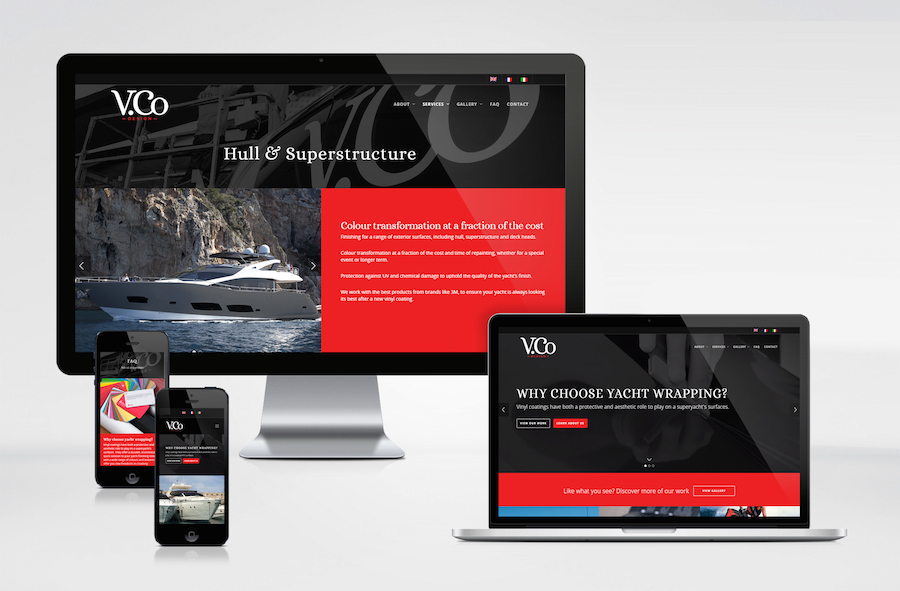 Expert yacht coatings company V.Co Design has announced the launch of its new website and branding ahead of what promises to be a busy Mediterranean season for the team. The website is designed to be informative and educational, allowing customers to access product information, FAQs and a regularly updated gallery of projects. It is available in English, French and Italian languages.
V.Co Design offers coatings solutions for the entire exterior of the yacht, from hull and superstructure protection and colour transformations to biocide-free antifouling options and glass finishes. The company also works with a range of outstanding suppliers to provide a wide selection of extraordinary interior laminates and finishes that are lightweight and easy to maintain.
Once considered as a technology limited to smaller boats and land vehicles, the advances in vinyl coatings production and application mean that the superyacht market is increasingly sitting up and paying attention to the benefits they can bring. Vinyl coatings work in harmony with an existing paint system on superyachts, and can be used to transform the look of a vessel quickly and efficiently, offering protection to the paint beneath.
Sophie Massa, Director at V.Co Design, comments: "There was a time when vinyl coatings were treated with an element of suspicion in yachting. But as technologies have advanced and application standards from reputable companies have shown excellent results, this is rapidly changing. There is a growing appetite for affordable, environmentally friendly and time efficient self-adhesive films in yachting. At V.Co Design, we work alongside paint companies, integrating vinyl with existing paint systems. As our company is entering the next phase of its development, we can now showcase the outstanding work from our fantastic team via our new website."
With captains and owners increasingly understanding the benefits that yacht wrapping can offer, this is set to be an exciting and busy year for the team at V.Co Design.